Contact Center Quality Management
Capture and evaluate customer interactions to continuously improve the customer journey
Interaction Quality Evaluation
Call Scoring
Listen to call recordings and evaluate agent performance to capture and share insights as well as direction on how to make improvements to the customer experience.
Evaluation Calls
Take advantage of the auto dialer and the IVR system to conduct customer satisfaction surveys and measure your quality of service.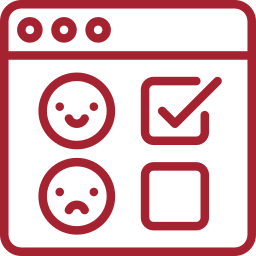 Post-Call Surveys
Integrate Voice of the Customer (VoC) into your business and gather valuable customer insight in areas for improvement through post-call surveys.
Monitor agent interactions in real-time and provide behind-the-scenes or direct coaching as needed to improve the quality of service. Capture customer interactions across different channels and evaluate agent performance to improve agent management and identify training needs.
Our consultants will be happy to presenting our solutions to you remotely or on site, discussing your needs, and advising you on the best implementation approach.